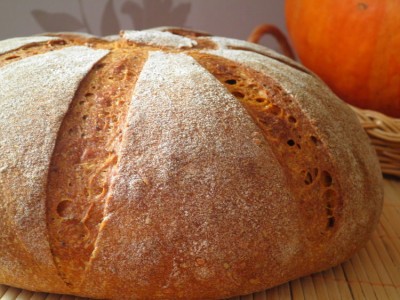 Recipe Name
:
Pumpkin Bread for Samhain
Cook Time
:80 minutes
Ingredients
2 cups of cooked pumpkin pulp

1 cup of corn oil

3/4 cups of water

4 scrambled egg

2 and 2/3 cups of flour

1 and 1/2 teaspoon of salt

1 teaspoon of nutmeg

2 teaspoons of cinnamon

2 teaspoons of dry yeast

2 and 1/4 cups of sugar

1 cup of white raisins

1 cup of crushed walnuts
Cook the pumpkin pulp for 20 minutes. Stir the corn oil, eggs, water and pumpkin pulp until it becomes smooth. Add flour, salts walnuts, cinnamon, yeast, raisins and sugar. Grease everything in oil and flour, put in the oven for about 50-60 minutes at temperature of 175-180c.
Served with cream cheese. Enjoy your tasty bread on the Samhain Sabbat!