Samhain is a Gaelic festival that marks the end of the harvest season and the beginning of winter. It is celebrated on the evening of October 31st, and is also known as Halloween. One of the traditional ways to celebrate Samhain is by taking a ritual bath, which is believed to cleanse the body and spirit and prepare you for the dark months ahead.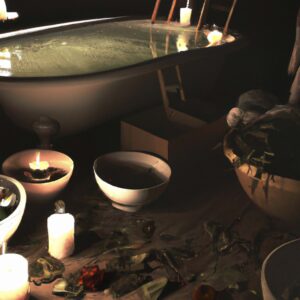 Here is a recipe for a Samhain bath that you can try at home:
Ingredients:
1 cup of Epsom salt
1 cup of baking soda
1 cup of sea salt
1 cup of dried herbs (such as lavender, rosemary, thyme, and sage)
10 drops of essential oils (such as frankincense, myrrh, and sandalwood)
1 black candle
Instructions:
Start by filling your bathtub with warm water. You can add some Epsom salt to the water to help relax your muscles and draw out toxins.
Next, add the baking soda and sea salt to the water. These ingredients will help to soften your skin and balance the pH of your bathwater.
Add the dried herbs to the water. You can tie them up in a muslin bag or a cheesecloth to make them easier to remove after your bath. The herbs will infuse your bathwater with their soothing and nourishing properties.
Add the essential oils to the water. You can use a carrier oil, such as almond oil or jojoba oil, to help disperse the oils evenly in the water. The essential oils will add a pleasant aroma to your bath and provide additional therapeutic benefits.
Light the black candle and place it on the edge of the bathtub. The candle represents the darkness and mystery of Samhain and will help to create a ritual atmosphere.
Get into the bath and relax for at least 20 minutes. You can close your eyes, meditate, or simply soak in the warm water and let your thoughts wander.
When you are finished, drain the bathwater and rinse yourself off with cool water. This will help to close your pores and refresh your skin.
Tips:
A short chant that you can use during your Samhain bath:"On this night of Samhain, I cleanse my body and my spirit I release the old and embrace the new I am renewed and ready for the winter to come Blessed be"

You can say this chant as you add each ingredient to your bathwater, or simply repeat it to yourself as you soak in the warm, soothing water.

You can customize this Samhain bath recipe to suit your preferences and needs. For example, you can use different herbs, essential oils, or add other ingredients, such as oatmeal or honey, to your bathwater.
If you have sensitive skin, you may want to use less Epsom salt and sea salt in your bath. You can also try a patch test before taking a full bath to make sure that you don't have any reactions to the ingredients.
You can enhance the ritual aspect of your Samhain bath by setting an intention or a goal for the coming year. You can write your intention on a piece of paper and place it near the candle as you bathe.
You can also play some relaxing music or burn some incense to create a peaceful and calming atmosphere.
I hope this Samhain bath recipe and guide will help you to celebrate this special festival and prepare for the winter season. Don't forget to take some time to relax and unwind in the warm, soothing water!
In the days of old, when the world was young
We celebrated Samhain, the end of the harvest done
We danced around the bonfire, with our hearts aglow
We honored our ancestors, and let the past go
Oh Samhain, Samhain, the magic of the night
We remember the old days, and all that was right
We honor the rituals, and the ancient ways
We embrace the future, on this Samhain day
We took the sacred bath, to cleanse our bodies and our souls
We lit the black candle, to mark the end of the year's toll
We set our intentions, for the winter to come
We let go of the old, and welcomed the new
Oh Samhain, Samhain, the magic of the night
We remember the old days, and all that was right
We honor the rituals, and the ancient ways
We embrace the future, on this Samhain day
We gather with our loved ones, to share our stories and our song
We embrace the present, and all that we've done wrong
We make amends, and let go of the pain
We start anew, on this Samhain day
Oh Samhain, Samhain, the magic of the night
We remember the old days, and all that was right
We honor the rituals, and the ancient ways
We embrace the future, on this Samhain day